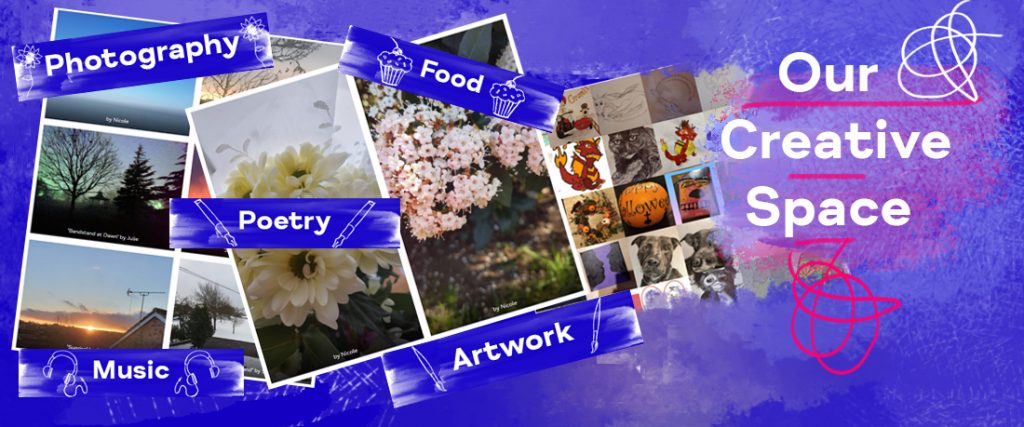 Mountain by Laura Ding-Edwards
Mountain by Laura Ding-Edwards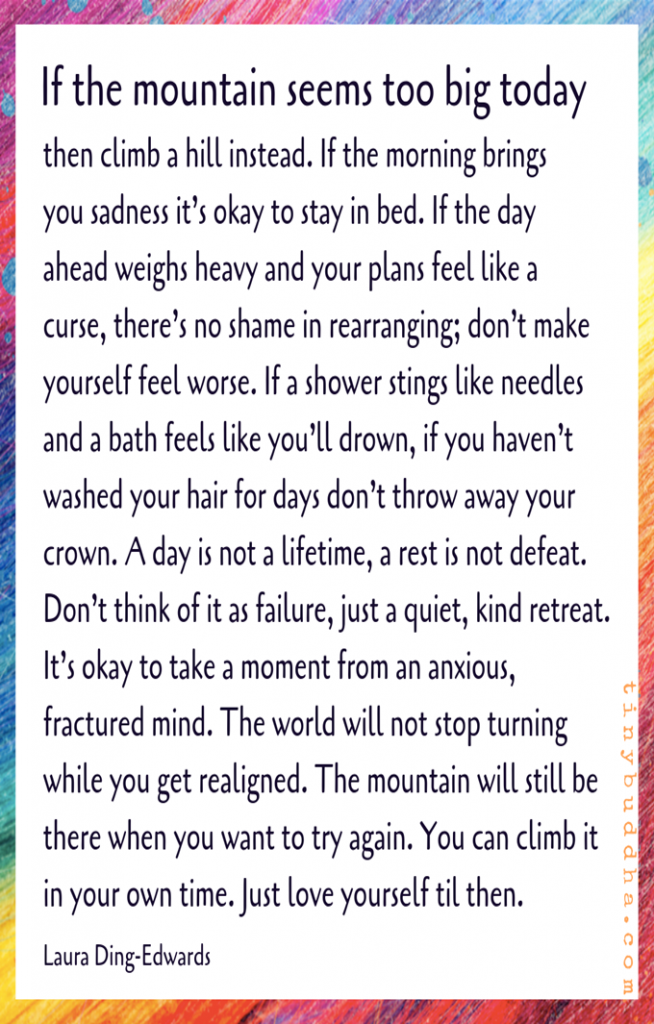 ---
BUZZY BEE! by Martyn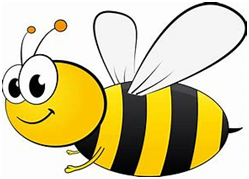 I start my journey after watching a dance,
Then I head hurriedly to the entrance.
Taking off from the hive I start with a dive,
Then up into the air I go feeling so alive.
My wings they flap so very fast,
Taking me up into the sky so vast.
They flap so fast they are a fuzz,
Making the sound of a loud buzz.
Buzzy Bee, Buzzy Bee,
Looking for pollen to make lots of honey.
The bees and I have got our bearing,
Now we have our actual heading.
This is the direction we need to go,
The dance I saw told me so.
So over a wall and past some trees,
I fly along with other bees.
Keeping level over the grass,
We bees will fly together and amass.
Buzzy Bee, Buzzy Bee,
Looking for pollen to make lots of honey.
Following each other into the garden,
Our sensors suddenly sharpen.
Through the gate and round the tree,
Flying around wild and free.
Over the hedge and over the path,
Stopping a moment at the bird bath.
A sip of water to hydrate,
My wings do flap and vibrate.

Buzzy Bee, Buzzy Bee,
Looking for pollen to make lots of honey.
I take off again wholly replenished,
Into the air with a sudden flourish.
Across the grass and over the tables,
Around the trellis and through the lattice.
Briefly skimming the magnificent bluebells.
Where apple and pear trees calmly dwells.
Round the roses white and red,
Up and over the garden shed.

Buzzy Bee, Buzzy Bee,
Looking for pollen to make lots of honey.
Skimming the roof and feeling the updraft,
I leave behind the shed to aft.
Over the gazebo full of vine,
Held together with string and twine.
Back down to the ground and over the mound,
Around the children's playground.
Diving here and tucking in there,
Keeping out of the suns glare.

Buzzy Bee, Buzzy Bee,
Looking for pollen to make lots of honey.
Must be careful as there are birds about,
Don't want to be eaten as I go about.
Looking out for flowers with pollen,
Some to me look totally foreign.
Around the pond and past the Iris,
Buzzing around like it's a crisis.
Along the path and over the fence,
And into the hedge so very dense.
Buzzy Bee, Buzzy Bee,
Looking for pollen to make lots of honey.
Out and up into the sky,
Higher and higher I fly.
I know around here there is something I want,
I'll know it in an instant.
Below I see the flower I want,


Standing proud as if rampant.
A plant of great character,
It's the amazing sight of the lavender.
Buzzy Bee, Buzzy Bee,
Looking for pollen to make lots of honey.
The lavender flower drawing me in,
The pollen I can take to my sovereign.
Its beautiful flowers full of pollen,
When I land on them they feel like soft cotton.
I gather up a bountiful supply,
Then take it back on wing so high.
Speed is essential on my journey,
To bring this pollen home and make honey.
Buzzy Bee, Buzzy Bee,
Looking for pollen to make lots of honey.
So over the garden and around the tree,
Over the tables to the cemetery.
I see the dead hedge with hive within,
And my home contained therein.
My hive I see all gleaming and white,
With other bees taking flight.
I land on the ledge with pollen abounding,
My mission a success and resounding.
My hive is the place to be Bee!
By Martyn

---
The beauty of beauty By Ria
Beauty is everywhere
In the wind rain and sun
It takes us on journeys
We will only see once.
Beauty isn't skin deep
It lives in our hearts
It surrounds our souls
It makes us whole.
Beauty belongs to us all
It runs free
It can be anything
You want it to be.
By Ria
---
The days By Ria
Days run away
We can't keep them forever
They stay in our hearts
And our souls together.
Days live always true
For always of us often happy
Sometimes sad and blue
They will hurt at times.
Days can be so alive
Full of energy and more
Making us strive
Full of spark galore.
Days can be slow
Dreary and dark
Without beautiful glow
That we seem to crave.
Days mean we are here
Held in this world
Days raise a cheer
With love and gratitude.
By Ria
---
Taking Care By Ria
Take care of yourself
There will only ever be
One of you in this world
You can love the others too
Enjoy what you do
But don't forget
To look after you
As you go along
Look after one
You need to be strong
So be caring and kind
But do not ever leave yourself behind
Be sure love the others
But look after your own Mind
And your body and soul
Everywhere you go.
By Ria
---
Childhood- The dreams of seasons By Ria
At five years old
I'm walking along
The wind is strong
The leaves fly
All around the air
The colours everywhere
I just know
Autumn is here.
At five years old
I battle through the
Glistening pure white
Crisp and sparkling snow
It reaches my hips
The coldness I do not feel
I'm so wrapped up
And entranced by it all.
At five years old
The cold is lessening
Just a slight chill
In the fresh lovely air
Spring is here and
The sun peeps shyly
The daffodils stand proudly
In all their glory.
At five years old
The sun is blazing
Summer has blasted through
And it is amazing
The paddling pool is up
Beautiful colourful flowers everywhere and bees
I play without a care
In the wonderful heat.
By Ria
---
Untitled by Julie
I lived in the overgrown garden of a house vacated long before,
roots firmly planted in the hard and rocky ground.
My leaves, were smooth and slightly waxy, which let the raindrops run away.
I bore pink blossom at the start of Spring and fruit around the month of May.
Ants ran along the branches in which we, as children played.
Wasps flew in a frenzy about the delicious, sticky fruit
Young trespassers', treasured memories made.
Untitled by Julie
Written in response to Southbank Centre's 'Art by Post' Project
---
*Poetry which depicts the personal thoughts and/or feelings of the writer
Dance in the Rain By Ria
Be who you are
Be yourself
Be nobody else
Be unique
Have no shame
Dance in the rain
Fly in the wind
By Ria
---
Deep in thought By Ria
Alone this morning
Deep in thought
After the yawning
Came to an end.
I lay here day dreaming
Pondering life
No sun beaming
Through my windows.
I dream of the past present and future
I dream my dreams
I dream of the structure
That I once had.
I think of the world
And the way it is now
Changing forever
Crisis bringing us together.
I think of myself
I think of others
I think of the way
The world can be another.
By Ria
---
Run from fear By Ria
Run from fear
It doesn't belong here.
Run from fear
If it pains you.
Run from fear
Don't let it grip.
Run from fear
It has no place.
Run from fear
And all it causes.
By Ria
---
Morning verse By Ria
Early mornings can be a
Blessing and a curse
They can make you feel
Wonderful or worse.
Early mornings the sun comes up
In a beautiful rise.
I love to watch this
Even though so tired.
Early mornings bring a
Beautiful new day
Don't let the bad stuff
Get in your way.
By Ria
---
Numbers 1 to 10 By Martyn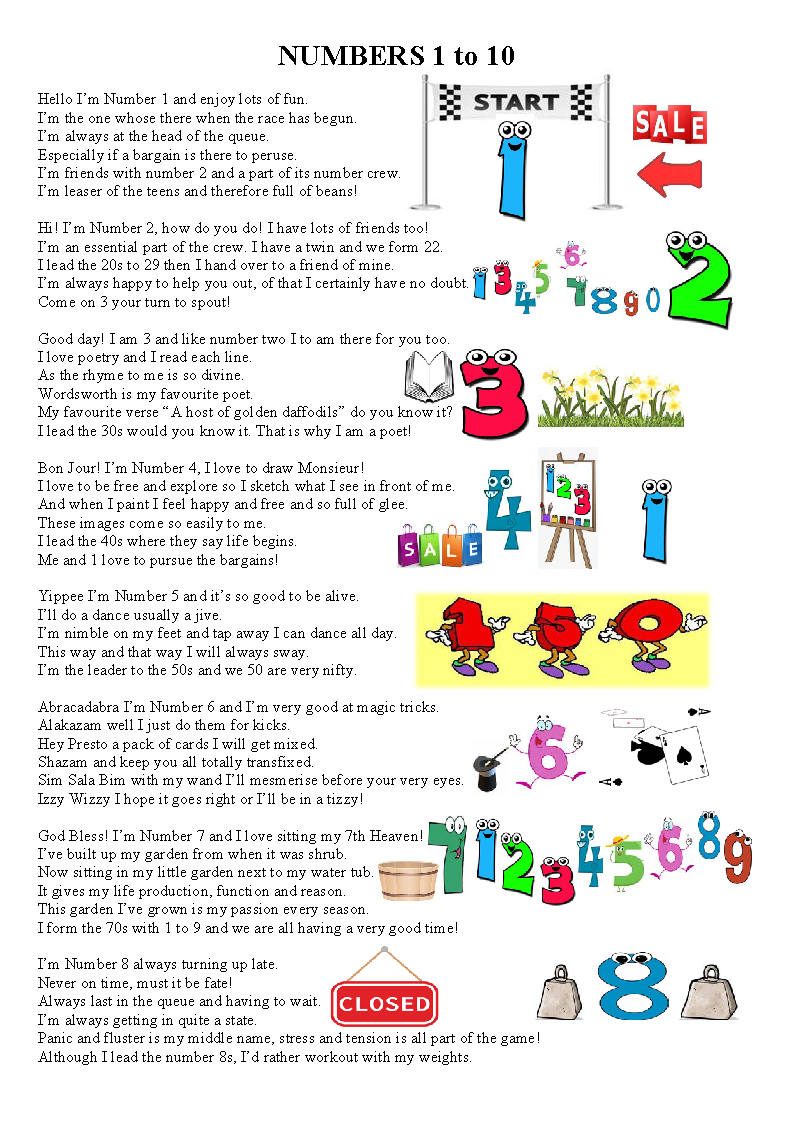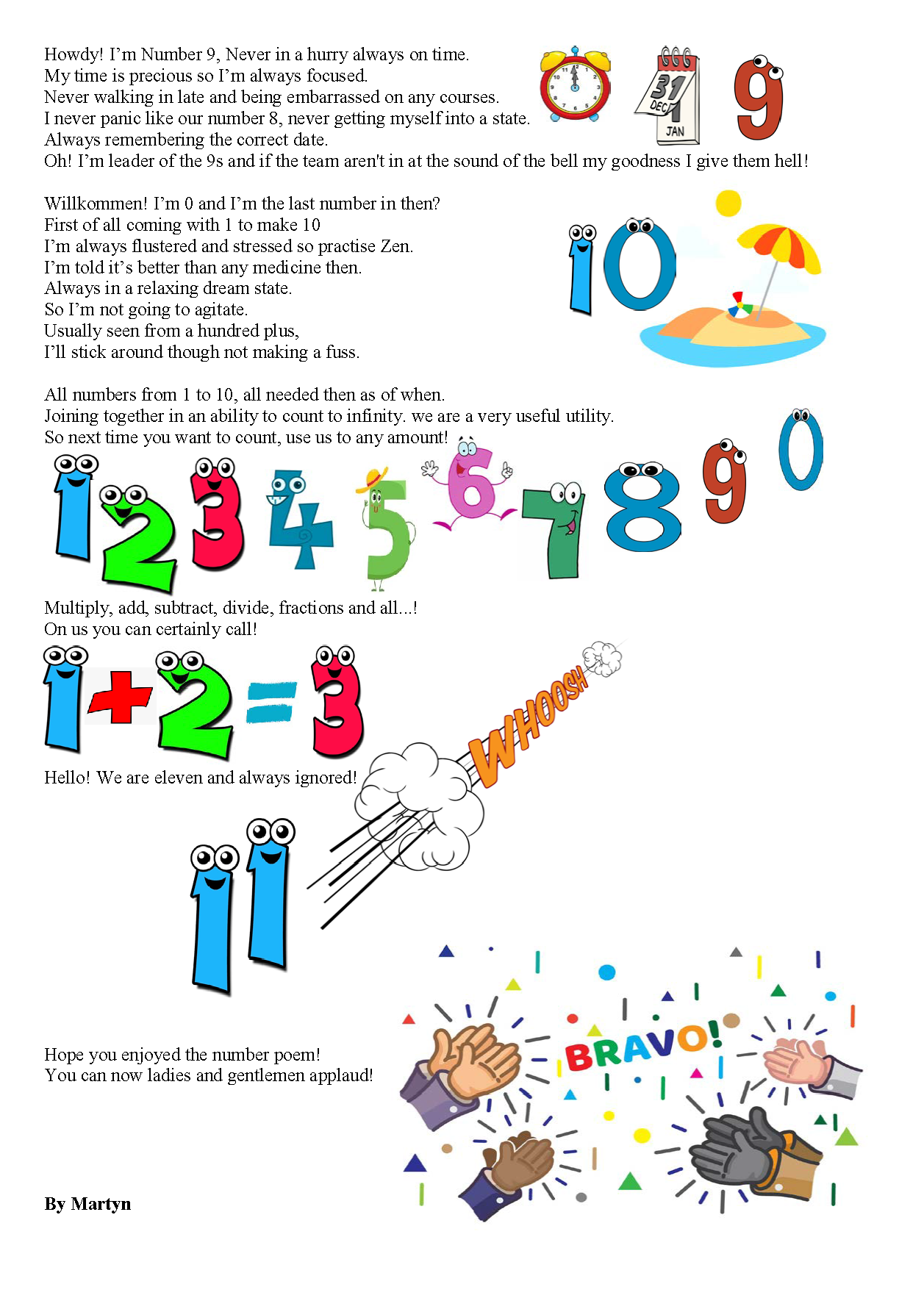 ---
Is the ocean Safe!? By Benjamin
Swimming is good swimming is life because you get stronger every time.
You need goggles, swimming hats and a swimming costume to wear.
I really love swimming but definitely not in the ocean. Water is life. Water is life.
Why is the ocean not safe? Why?
These species can harm you within the ocean: Sharks, Jelly Fish, Sea Birds and Piranha Fish.
They will gobble you up like a bit of meat to feast on.
In front of me was a big bright blue swimming pool which is much safer than the ocean.
Down below this ocean looked like an empty mysterious town. It was Blue, Grey, Green and with beautiful colours. Something is shining heavily above the sky – I wonder what it could be?
By Benjamin
---
Music is My Comedy By Benjamin
In this life of music, it was magical, set in South- East London where I became a popstar comedian.
This day started with singing in the daylight of the stage light at the town centre.
The weekend flew by as fast as a Chimpanzee eating a banana treat.
I'm singing my life away like a star wishing upon the sky of this important day is the best day of my life.
I heard a knock at the front door I wonder who could it be? the door open. ''Hello it's Me Tom I was in your pocket this whole time I cannot believe you didn't notice that was silly thing to do.
The last day of my music club it was fandabbydozy I became a ventriloquist, comedian, all around performer that can sing, act, dance, tell jokes and do impression of different voices isn't that right my best friend Tom the Sock Puppet. '' Yes, yes, I cannot believe you said that but it's true we are brilliant let's celebrate see you next time to all our fans''.
By Benjamin
---
Kindness
I will not stop for anything
That tries to take me away
I will not give up
I live to see another day
Kindness has and
Always will held sway
By Ria
---
Battling a bipolar mind

Silence said I!
But why?
Because I say
No noise today.
But my voice needs to be heard
Each and every word!
Please be still
If you will.
I can and will not!
I won't be forgot!
Forgotten you won't be
Can you not see?
Are you sure,
The fear hurts my core?!
Sure I am so rest,
Stop trying to be the best.
By Ria
---
The lonely rose
The lonely rose steps back
And stands far away
Quiet in her actions
Silent in her thoughts
The lonely rose whispers
So many words unheard
She doesn't want you to hear.
The lonely rose is
Like a summers breeze
Barely there
The lonely rose
Doesn't live to please you
But likes to see you happy,
Before her own pleasure.
By Ria
---
Head up
Fill your sad mind with laughter
And smile the hard times away
Take your head to paradise
Live to win another day
The hard times won't last forever
Even if they feel they will
Keep you and your loves together
This is how you need to feel
Keep your chin up
And your mind at rest
You are strong and tough
You can be the best
By Ria
---
Beautiful Sky
Beautiful sky
I make you mine
All mine in the night
And each day
Beautiful sun
I make you mine
Even the times
you do go away
Beautiful moon
I make you mine
You lighten the darkness
When it hides in the shadows
Beautiful stars
I make you mine
You shine so brightly
For me when I need you
By Ria
---
Dreams
I have dreams
Dreams of success
Not necessarily the best
I have dreams for myself
Dreams for everyone else
I have dreams
Of stars and sunbeams
Of what it all means
I have dreams
For the future
As the past is gone
By Ria
---
A town called Hope
A town called Hope has sunny rays
People laughing and happy days
Helping each other in many ways.
A town called Hope is full of colour
A beautiful rainbow like no other
Everyone supports each other.
A town called Hope does not discriminate
But rather the laughter it does rate
A smile is never found too late.
A town called Hope is liberty
With blue skies and clear sea
All to be what they want to be.
A town called Hope is unique
A town called Hope is complete
A town called Hope is full of love
(On the ground and in the skies above.)
Written by Ria
Inspired by South Bank Centre's 'Art By Post' Activities
---
A town called Hope By Martyn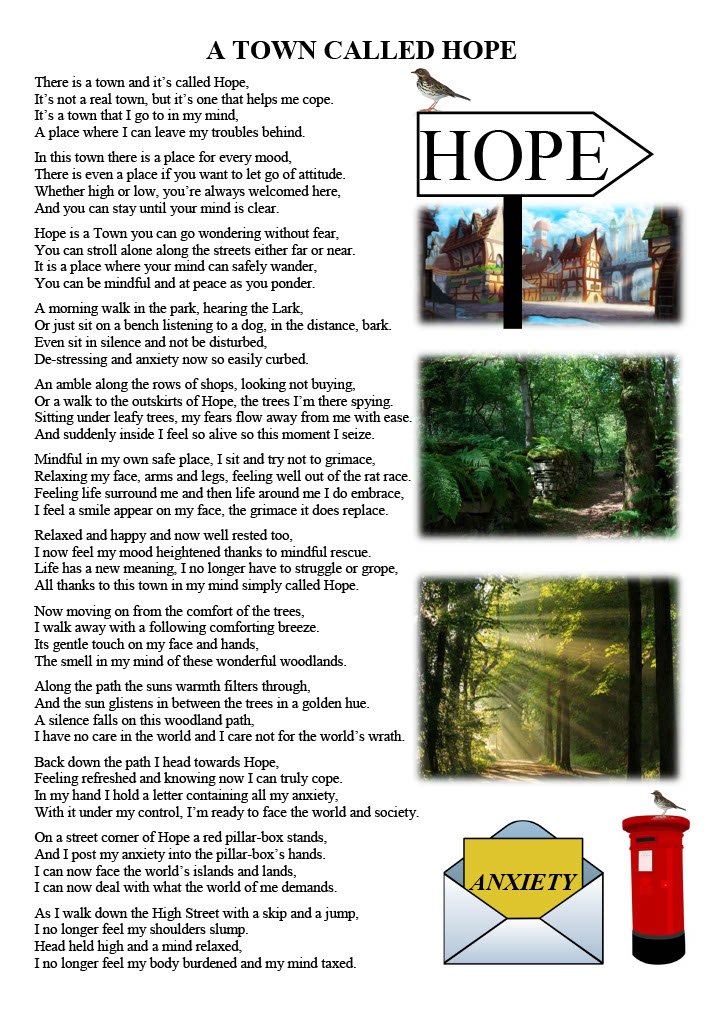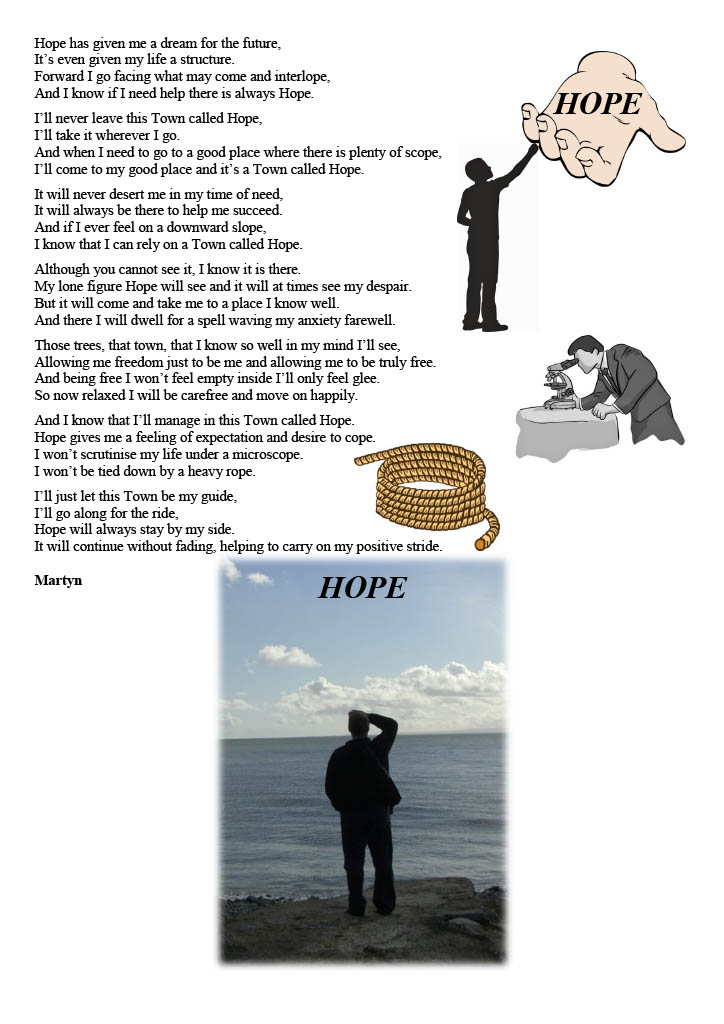 ---
OK not to be OK By Ria
It's ok not to be OK
To battle day by day
Its OK to be weary
Broken down and teary
Try to believe you can be strong
This storm shall pass before long
Its OK to struggle sometime
Remember your feelings are no crime
Its fine just to be you
To yourself always be true
While its OK not to be OK
Don't lose yourself along the way.
By Ria
---
The Covid-19 Poem
We're going through the toughest times as everyone's aware, the Covid isn't choosy,
because it simply doesn't care.
It targets those both near and wide, the well off and the poor, it's claimed so many
lives each day, not knowing what's in store.
But the vaccination is a certain guarantee for every person worldwide, for other people and for me.
It takes more than just a simple prayer, before the world is right, but with each
vaccination, we can win the Covid fight.
Let's bring hope for the future, no matter how long it may take. And look out for each
other, and the difference it can make………
Elizabeth Schaffner – March 2021
---
The Listening Ear
When you're at your lowest
And you don't know what to do
Just let me take you by the hand
And let us talk things through
I'm here to talk you through your worries
And see what they reveal
And help you find an answer
That I hope will help you heal
I'll talk you through your problems
Whether you're a she or he
And listen with attentiveness
For that's a vital key
I promise not to judge you
For that is not my role
But hope you find an inner peace
To ease your troubled soul
A problem shared is one that's halved
Unburdening your mind
I'll try to show you ways
To leave your sadness far behind
It helps to talk to someone
When we need a helping hand
Someone who's supportive,
who can really understand
So please don't feel you're on your own
For you I am always here
Where you will find the greatest comfort
From the listening ear.
By Elizabeth