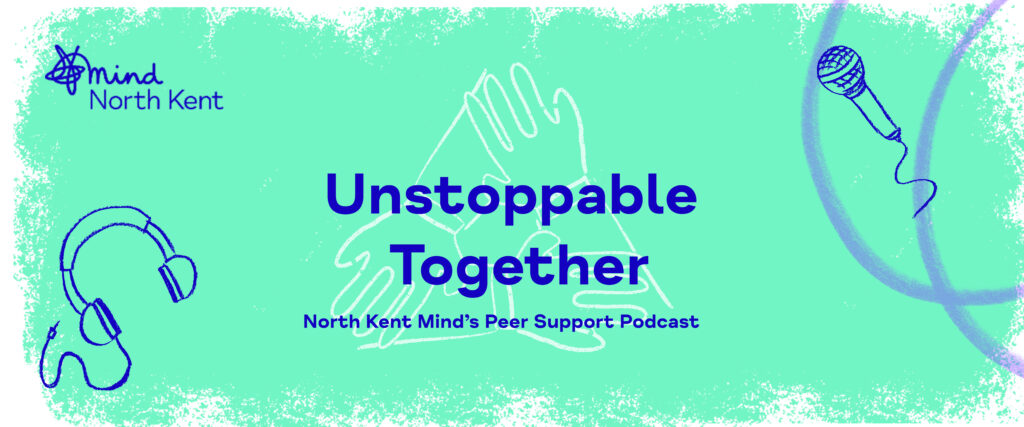 Hello! Welcome to North Kent Mind's brand new peer support podcast, Unstoppable Together.
Here at North Kent Mind we won't give up until everyone experiencing a mental health problem gets both support and respect.
We work to our values of being; Open, we reach out to anyone who needs us; Together, we're stronger in partnerships; Responsive, we listen, we act; Independent, we speak out fearlessly; and lastly, Unstoppable, we never give up.
We hope that throughout the episodes, our podcast will provide synergy and comfort, educational support and reassurance that you aren't alone. We will address current influences, issues, concerns and events that may affect us and our mental health and we will work to eliminate stigma.
Some topics discussed may bring up difficult emotions, we will be sure to include content warnings for each episode so individuals can make informed choices before listening. As we are based in North Kent, most of our signposting will be specific to this area.
If you are outside of North Kent, please visit https://www.mind.org.uk/ to search for your local Mind branch.
Please check out our services to find out how best we can support you!
We greatly welcome feedback and suggestions! If you have any comments then please click the button below or email: feedback@northkentmind.co.uk
Thank you!
Click here to leave feedback or suggestions
Episode 1 – Mental health and wellbeing, an introduction