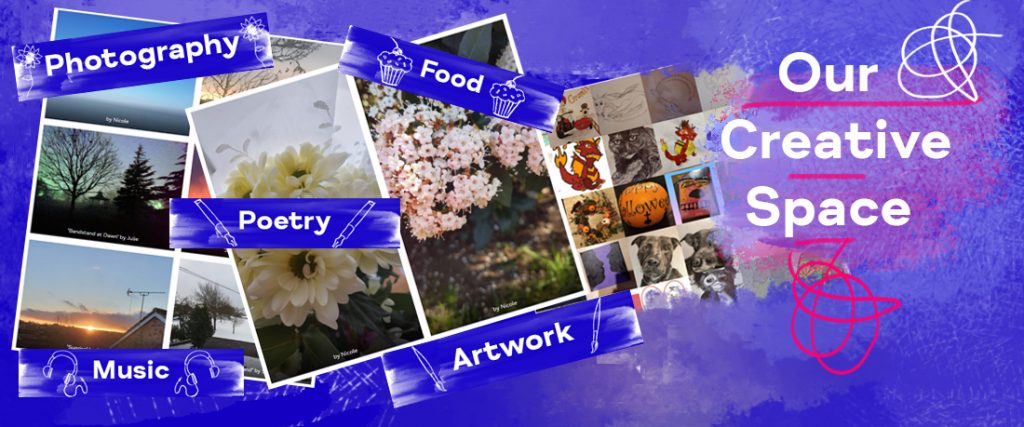 'Flowers by W made in response to the Letterbox Craft Project'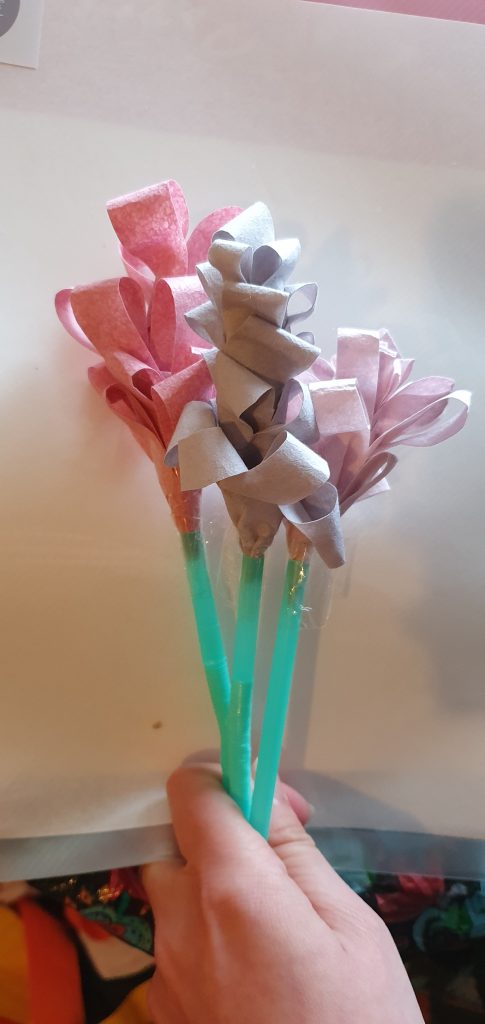 ---
By Angel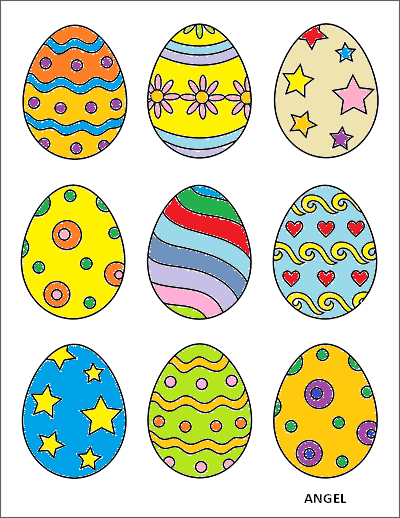 ---
by Aileen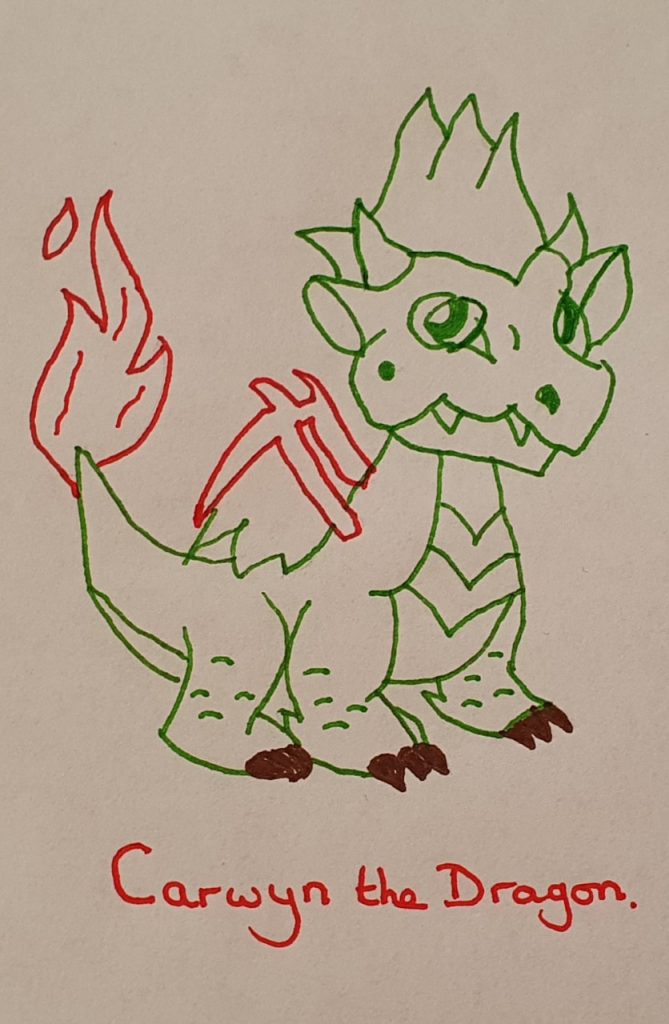 ---
by Lorraine
---
by Steve
by Val
'This activity was completed in conjunction with our Activity group in response to the South Bank Centre's 'Art By Post' project.
My 'A Town Called Hope' explained
by Val.
North Kent Mind was my biggest inspiration for my town, as you will see from my map and my pen picture below. My primary idea was to base on it one of those town maps you find in a Ye Olde Town Square telling you where you are and where things are and then it was my my creative licence and my ideas which just ran amok. Here's a whistle stop tour of my town…
Tranquility Park and Zen Corner:
It's a really big park area, with lots of trees, a lake in the with benches beside to enjoy the sights and sounds of nature. There are picnic areas for people to enjoy on those on those beautiful long summer days. Zen Corner is an outdoor area where people can gather and do activities relating to mindfulness and well-being like yoga, tai-chi, meditation. Zen Corner is also enclosed within trees so that there is privacy for people to enjoy their mindful activities in peace without too much distraction from what is happening in the park. You will notice that below this there is area where there are hills to go and explore the narrow winding paths and somewhere you can take your mountain bikes to enjoy the stream that flows down from the main river.
The Weekend Arts & Crafts Fair and New Hope Community Centre:
The arts and crafts fair is a Saturday and Sunday run fair which encompasses so many things from painting for beginners right up to the experienced, rock painting, tie-dyeing, candle making to knitting and crochet. This fair only runs outdoors in the spring and summer and then reverts to being in the community centre in the autumn and winter only breaking for Easter and Christmas. The Community Centre is also used a summer creche for young kids and can also hold many social events like bingo, quiz nights and parties.
The Riding School and down south:
The area down south is again covered in greenery, woodland and has a lake. There is a riding school which has a paddock and stables with access to the woodland to have a trek with the horses and ponies.
New Hope Ecology Park and Wind and Solar farm:
The use of renewable energy and solar power is important as we need to drive down our Carbon footprint. So when my mind is swirling round and I don't know what to do I can take a tram ride down to the Ecology Park and watch the wind turbines go round and round as they gather up energy to source my town.
Middletown Hope
So in the heartlands of 'A Town Called Hope' lies so many lovely things like a mini housing estate that has solar panels so that each house gets an even share of renewable energy. There's the New Hope All Saints church for those who love attending regular church on Sundays and also a nearby medical centre for any emergencies.
The Town Market Square
The town market square clock is the distinguishing feature here as there is an arch way that leads into the cobbled market square where there is a small mix of shops like a butchers, bakers, a craft shop, a small café and restaurant as well as a few other shops selling homemade things like preserves, candles and little ornaments. In the middle of the town square is a fountain. To the west of the town market square lies a rotunda where there is sometimes live music going on and during every weekend in December there is a lovely band that play Christmas carols to entertain shoppers and provide a real festive feel. In the summer the rotunda hosts events later into the evening to enjoy the longer hours of daylight and warmth.
The Multi Faith Centre
The Multi-faith centre is situated to the north of the Town Market Square and is two adjoining buildings. To ensure total equality and respect to all of the major faiths that are represented in this building everyone is all on the same floor. To the rear of the MFC there is a small lake and trees providing a tranquil and relaxed atmosphere to anyone needing a moment of total peace and quiet contemplation.
The Cinema and office blocks
New Hope Cinema is a 12-screen multiplex with a variety of films being shown and is always a hive of activity when it comes to movie premieres. The office blocks nearby are the main source of jobs in this town called Hope.
New Hope Mall
New Hope Mall contains at least 30 major retailers under one roof and is near the Silver Link tram drop-off point so there's no need for cars and traffic jams getting in and out of the complex.
New Hope Tavern
Last but certainly no means least is the New Hope Tavern situated in the heart of the town and is a lovely sized pub with a real welcoming and homely feel to it. It serves some gorgeous food which caters for everyone with a seasonal menu, and on Sundays, customers can enjoy a good old Sunday roast. It has plenty of outside seating for when the weather is lovely and usually in summer there is a barbecue going on every fortnight.
New Hope Water Taxi
The New Hope Water Taxi offers a relaxing and ideal way to see some of the sights of the town and is best enjoyed on lovely warm days. Each water taxi can seat up to a maximum of 5 people and charge £5 per adult and £2.50 per child (with an adult) for an hour's ride going from east to west (and vice versa).
Silver Link Trams
The Silver Link Tram service is the ideal way to travel around A Town Called Hope it has many drop-off points, is disabled friendly as it's front three carriages are more roomier and accessible for people with impairments. It is a great way to enjoy the town and also being green and reducing pollution at the same time.
---
By Steve
---
By Marjorie
---
By Nick
---
By Nicole
---
By Val
---
By Ben
---
By Jonathan
---
By Ria
---
By Benjamin
---
by Dave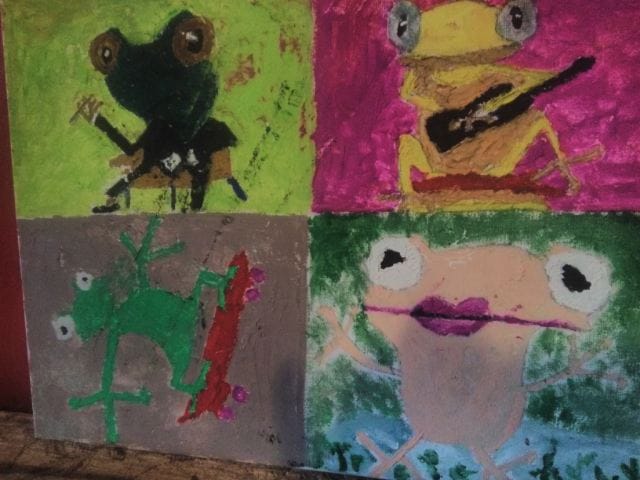 ---
by Val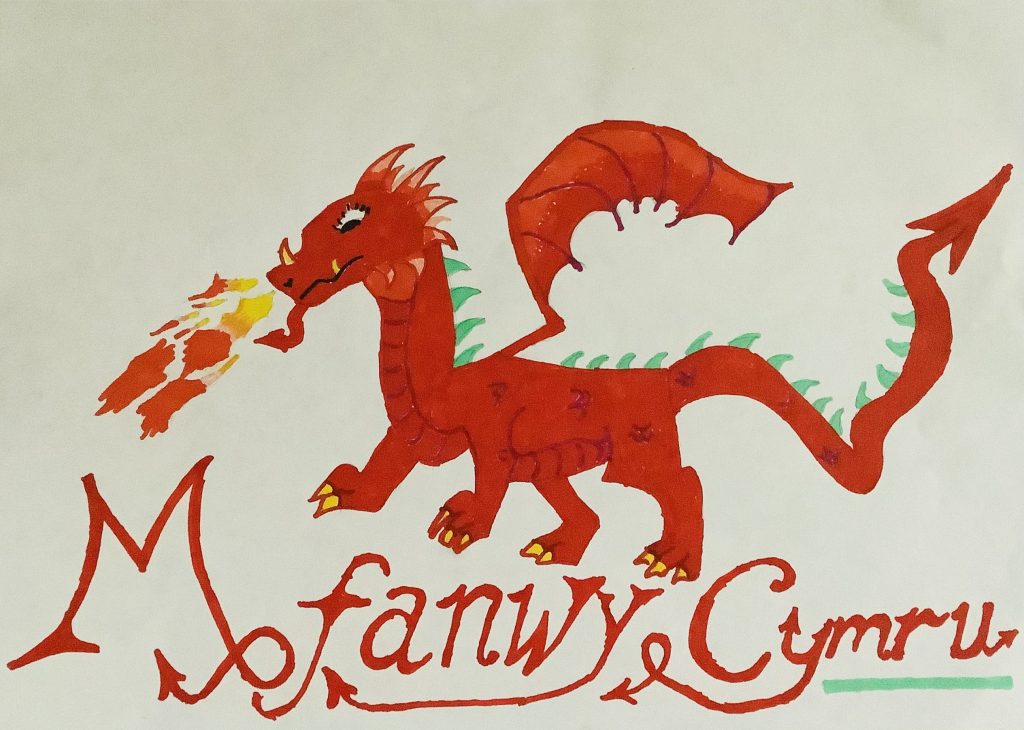 ---
By Angel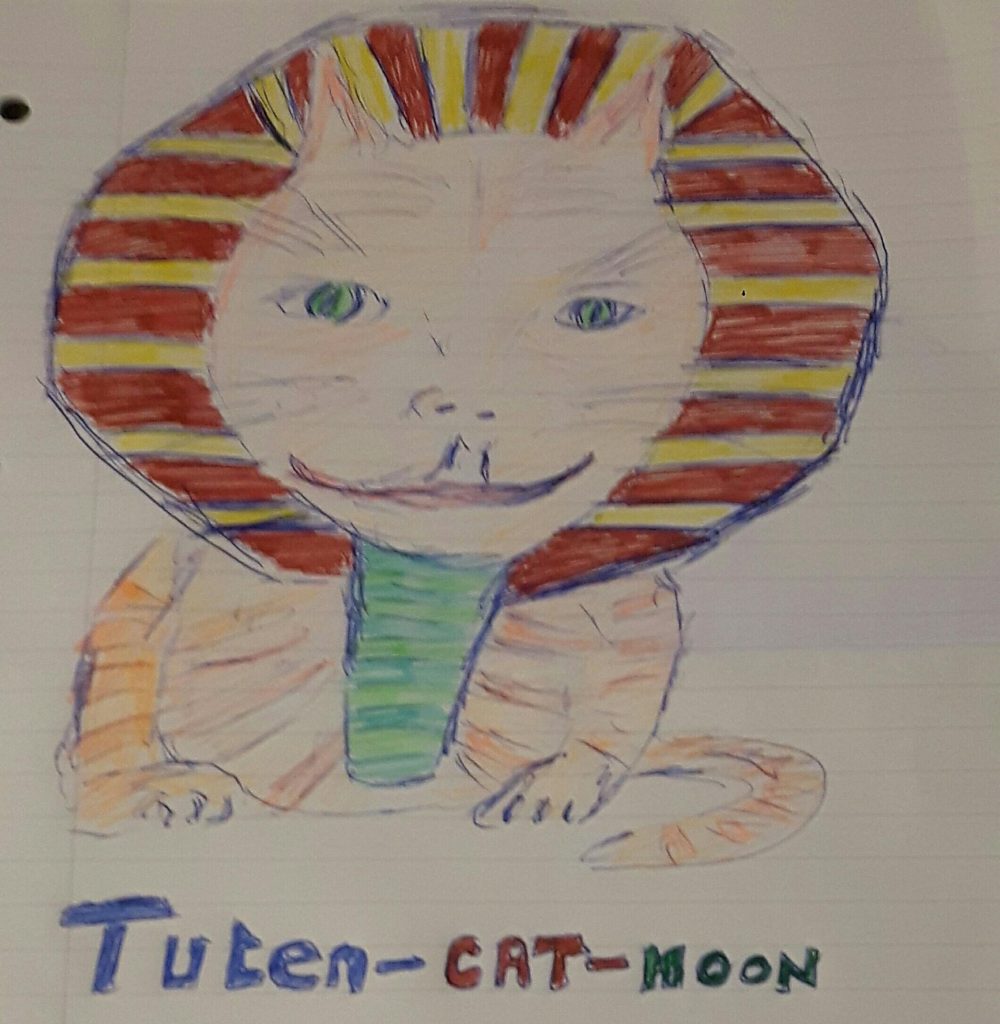 ---
By Olivia
---
by Julie
---
By Angel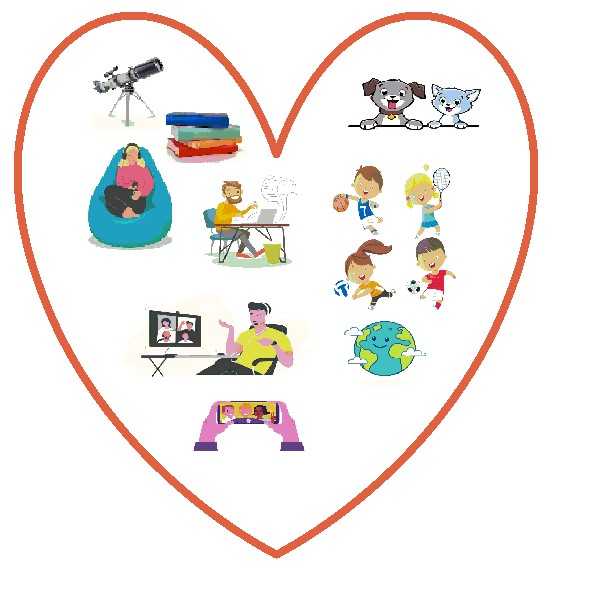 'In response to an 'Art By Post' activity that we talked about in the Peer Support Activity Group, I replaced words with pictures to represent my interests and favourite past-times.' Angel
---
By Valentina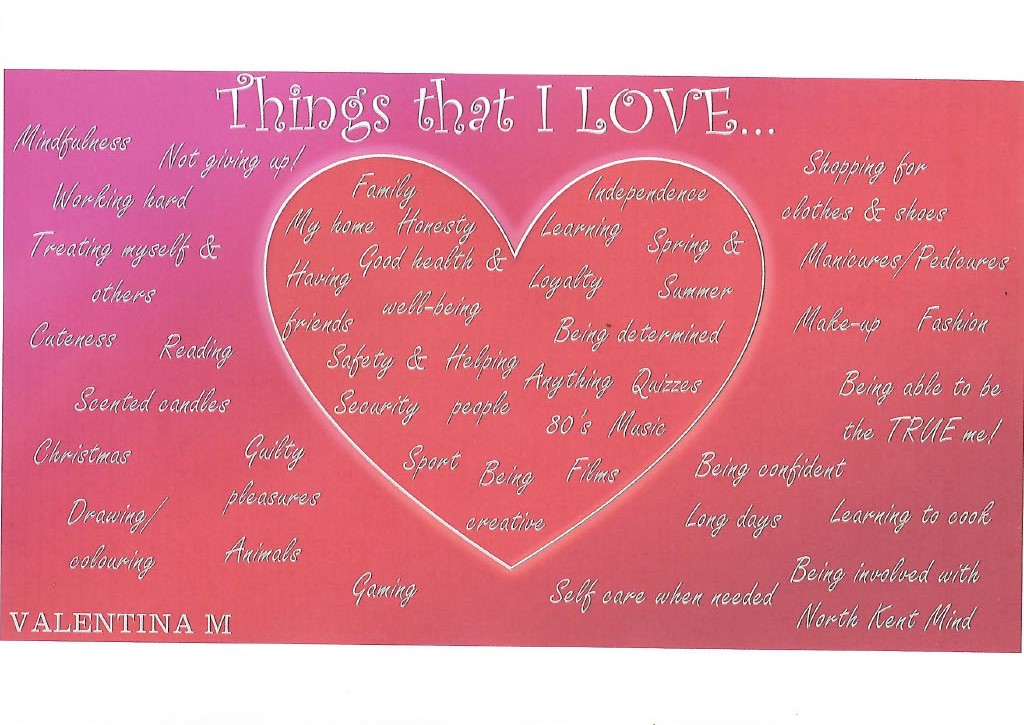 'I enjoyed taking time to think about the things I love following conversation in the Peer Support group about this 'Art By Post' Activity'. – Valentina
---
Gallery