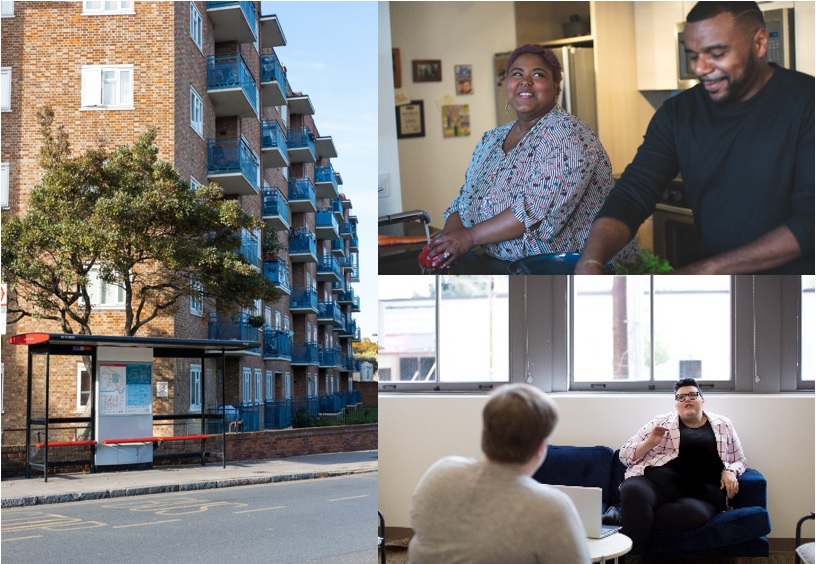 Mental Health Housing Related Support Service Leaflet

Housing Support Services Leaflet
North Kent Mind provide a supported housing service for 27 people who have experienced mental health problems and now need some support to live independently. Accommodation is provided in 5 sites in the area.
Dartford a block of 8 self-contained flats near the town centre.
Northfleet a block of 6 self-contained flats.
Gravesend a large house converted into 5 self-contained studio flats, and also 2 self-contained flats within one house.
Swanley 6 self-contained flats within one house.
Most of the schemes also contain a communal room where tenants can meet together if they wish. All the flats are for single people.
Living in North Kent Mind Accommodation:
We offer short-hold tenancies – which means that tenants living within them are expected to become independent enough to move on to general housing within two years. Everyone is encouraged to move to more independent settings when they are able to do so.
Our service is a low-level Supported Housing Scheme. Staff visit the properties, but are not available on site. Our tenants receive low level of support, which means they will have around 2 hours 1-2-1 support from their allocated support worker per week. The support we provide could be in person or remotely.
All flats are fully furnished and equipped when a tenant moves in. Rent payments are normally covered by Housing Benefits if the individual is eligible to claim them. Council tax will be in line with the local authority's council tax reduction scheme. Tenants pay their own utility bills to encourage independent living.
Housing Support:
Assistance with form filling (benefits, utilities etc.)
Health and Safety checks and property maintenance
Help with living skills and self-development through person-centred planning and support
Liaising with the Community Mental Health Team if their mental health deteriorates
Financial advice and budgeting
At the tenant's request, and where appropriate, supporting them by attending meetings with other professionals
Working to avoid isolation and promote social inclusion.
Person Centred Support plans & Risk Assessment review meetings. These identify the person's needs and goals and how staff can help to meet these. Plans are reviewed every six months, or earlier at the request of the tenant.
All tenants have opportunities to take part in social activities
and in meetings to plan and develop the service.
Copying Skills which supports recovery from mental health problems and general wellbeing.
All tenants are encouraged to attend Supported Housing Life Skills activities & sessions to develop independent living skills.
Mind tenants are also encouraged to access the range of other services we provide. We support tenants to refer to other services and external agencies as needed.
North Kent Mind DOES NOT undertake:
Personal care
Shopping
Domestic duties
The Aims of Supported Housing Service are:
Support individuals on their mental health recovery process
Liaise with external professionals & agencies to work in partnership to support our tenants holistically
Promote our service users independent living skills
Empower people to achieve their goals
Support & assist improving our tenant's quality of life
Promote social inclusion of people struggling with enduring mental health conditions
Mental Health Housing Related Support Service Eligibility Criteria:
The service is for Kent residents aged 18+ who have a primary mental health diagnosis or need and require the support delivered by the service. People referred may have secondary needs related to homelessness, substance misuse, learning disability, physical disability, sensory impairment, or other health and social care related needs.
We do not keep waiting lists for the supported housing services, but when vacancies do occur, we notify Porchlight (Live Well Kent) and also inform the Community Mental Health Teams and other agencies who refer suitable candidates to us.
To be considered for a flat a person must:
Resident of Kent (2 years / Local Connection Criteria)
Be in need of Housing in one of those 3 areas: Dartford, Gravesham or Swanley
Be over 18 and needing single person accommodation
Have, or be recovering from, an enduring mental health problem (Mental Health Diagnosis needed)
Need the type of housing support we provide (low level support/ 1-2 h support per week)
Need the type of housing we can provide (self-contained flats for single accommodation/ no staff in the premises)
Be able to use the supported housing service to make positive difference in their life and move on to live independently after 2 years of tenancy (we only offer short hold tenancy agreements -2 years)
Not be a risk to the health, safety and well-being of other tenants (People in crisis won't be suitable)
Referrals MUST be completed by a professional. NO SELF-REFERRALS will be accepted.
Referrals need to be sent to Porchlight (CRS- Central Referral System): livewellkentHRS@porchlight.org.uk
Applications & Referral Process (Central Referral System – Porchlight):
When a person meeting these criteria wants to be referred to the service and where we have a vacancy, a professional needs to request the application pack from North Kent Mind or Porchlight on behalf of an individual. Self-referrals are not accepted.
All referrals will have to be submitted to Porchlight (Central Referral System)  livewellkentHRS@porchlight.org.uk
Once a referral has been reviewed and accepted by Porchlight's Referral Panel, they will pass it on to North Kent Mind, where applicants for Supported Housing will be interviewed by 2 staff, who will make the decision on whether or not accommodation should be offered. It is our policy to offer a tenancy to the person who is in most need of the housing and support we can provide.
To view available properties please click here.